Students! Help us decide which scientists and engineers should take part in the next event, and you could win a €20 voucher. All you need to do is take 2 minutes now to judge these 12 sentences.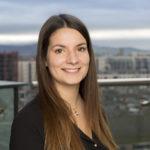 I have joined several STEM programmes before for students in different levels and after hearing about I'm an Engineer, Get me out of here! I decided to participate. It seemed like a great opportunity to use the technology the students have now in their schools and help them understand the engineering world.
Some questions were really challenging and I would like to thank all the students for their engagement in the chats, I hope I had answered all of your questions and hopefully you will know a bit more about engineering!
Thank you all for voting for me, it is really rewarding when I got some messages during the last chat saying that my job was the most important one, get clean water for all!
A huge thank you and congrats to all the other professionals in the production zone, all of them did a great job and were also winners! It was great to have you by my side during these two weeks!
Thank you to everyone that organises this amazing programme and for all the email reminders that my post-its on my screen didn't send!!
This was a great experience and I truly feel the students enjoyed it! I wish every single student the best of luck in their future and remember what I told you: "Choose something that you like and you will succeed!"
Engineers! If you'd like the chance to win funding for your own public engagement work, apply for the next I'm an Engineer, Get me out of here: imanengineer.ie/engineers-apply