Profile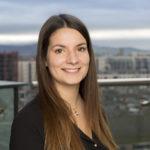 Diana Abrunhosa
Curriculum Vitae
Education:

University of Porto, Portugal and VIA University College for one semestre in Denmark.

Qualifications:

Master in Civil Engineering

Work History:

I've worked in a company in Portugal called FASE, moved to Ireland to work for Glan Agua and am now in Arup for nearly 5 years.

Current Job:

Project Engineer

Employer:

I work for Arup, a consultancy engineering company. I am currently based in Dublin but we are round 16,000 people worldwide!
About Me: Monday-Friday: Water Engineer ¦ Saturday-Sunday: Travelling, finding the best coffee in town and brunch

Read more

I am a young Engineer from Portugal, the sunny country of the west of Europe and moved to Ireland in 2016 for work!

I've studied in Portugal and Denmark and am now working in Dublin.

I love to travel and discover new places and cultures! Between 2016 and 2019 I was in a plane probably every 3/4 weeks! Sometimes is a bit tiring but very satisfying. There's no more pleasure in life than knowing what else is out there! I've also made a lot of friends when studying in Denmark so I could go to almost any country in Europe and have a friend to visit!

I was also very sporty all my life and did ballet for some years, then switched to gymnastics for four years. I now try to learn some irish dance on my free time (already have my first hard shoes!).

My Work: Engineer in Flooding Projects (find a solution for areas that flood often)

Read more

I work on several flooding projects – when an area floods often, I am part of the team who tries to find solutions so that doesn't happen anymore.

I also can tell if some areas are good or not for new houses, offices or any other building by checking if the location can flood or not!

My Typical Day: I mainly work from home now but I can go to my office if I want to see my colleagues. My day usually starts at 7h30 with a nice breakfast. Most of the days I don't have to travel far to my desk at 8am, I check my emails and then do my work until about 4h30/5pm. Plenty of time left to get out of the house, relax, do some sports or go for dinner somewhere with my friends!

What I'd do with the money: Donate/work with schools to bring awareness to STEM/engineering.

Read more

I will be willing to donate the money and/or help organizing a design challenge to motivate students (either from primary school to college level) to think about STEM subjects and how we help others with our knowledge.

I am sure great things can be done with the money to help shaping a better wolrd!
My Interview

How would you describe yourself in 3 words?

Curious, adventurous, happy

What's the best thing you've done in your career?

Design a dessalination plant for an island! (Take water from the sea, remove the salt and get clean water for drinking!)

What or who inspired you to follow your career?

I always loved small house 3D models and always wanted to build one so being an architect or a civil engineer were the ways to go.

What was your favourite subject at school?

Geometry, Maths and Chemistry

What did you want to be after you left school?

Architect

Were you ever in trouble at school?

Not that I remember!

If you weren't doing this job, what would you choose instead?

I would try to be an architect

Who is your favourite singer or band?

I'm old school in a young body - I love the Beatles, Queen...

What's your favourite food?

Pizza, pasta and chocolate - Can't decide which one is better.

What is the most fun thing you've done?

Go to an event at the Australian Embassy in Ireland and end up taking a picture with the Embassador and colleagues on their knees holding a surfing board with me on top. Funny!

If you had 3 wishes for yourself what would they be? - be honest!

Travel the world, Make the world a better place, get unlimited chocolate!
---
---
---